Educators' Summit for SDGs 4.7 –For fostering our Global Citizenship was held on 28th October, 2017 at Seishin Global Plaza, the University of the Sacred Heart. Over 100 participants gathered, aiming to achieve Sustainable Development Goals (SDGs) and map brighter future on various educational sectors.
The event itself provided the participants with 6 lightening talks about SDGs 4.7 from various educational specialists in the first half of this event. The latter half contained 3 sessions under different themes of Global Citizenship Education (GCED). Through opinion sharing and dialogue session, the participants spent whole time to learn SDGs, to experience by themselves, to deepen their knowledge, and to share their visions for the future.
Below is a brief summary of Educators' Summit for SDGs 4.7.
Message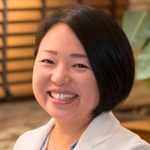 Ms. Madoka Tatsuno
Educators' Summit for SDGs 4.7 Executive Committee member
"Educators' Summit for SDGs 4.7" is one of the projects created by the members participated in Global Citizenship Conference organized by UNESCO Bangkok Office Asia and the Pacific Regional Bureau for Education, Thailand. Participants to this event gathered from all over Japan, who work for Education for Sustainable Development (ESD), Global Citizenship Education (GCED), international understanding education, environmental education, developmental education and so on. 
The event was successfully held having attractive lightening talks by 6 educational specialists, 3 selected sessions including creative learning, GCED template, and SDGs card game, and the lectures about future education. It was a great opportunity for the participants from various fields (business, government and academia) to learn through dialogues and the event was filled with positive energy. I believe that this was only possible because the participants gathered and shared the value of SDGs and SDGs 4.7 with strong passion towards education.
While there are negative news that the world is becoming separated, this event convinced me that we can connect the world through "education" perusing the goals written in SDGs 4.7 together with the active educators who are making efforts to achieve these goals.
This summit literally became a starting point to connect the world through education, and to accomplish SDGs by 2030. I would like to express my gratitude for executive committee members, participants, and all the people who were involved in this kick-off event. We are determined to continue and accelerate educational activities with SDGs 4.7 and to connect with other countries in the globalized world through "education". 
Opening
Event Report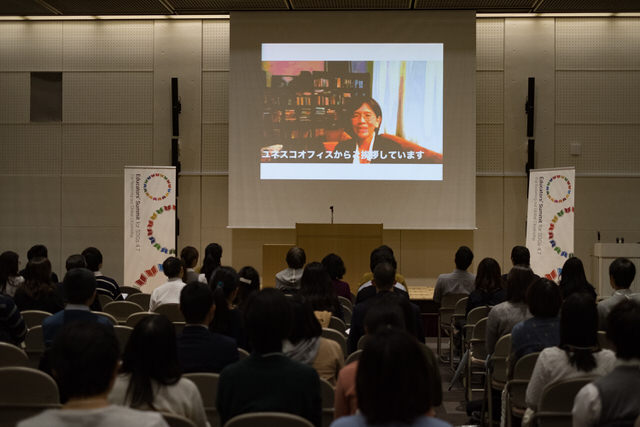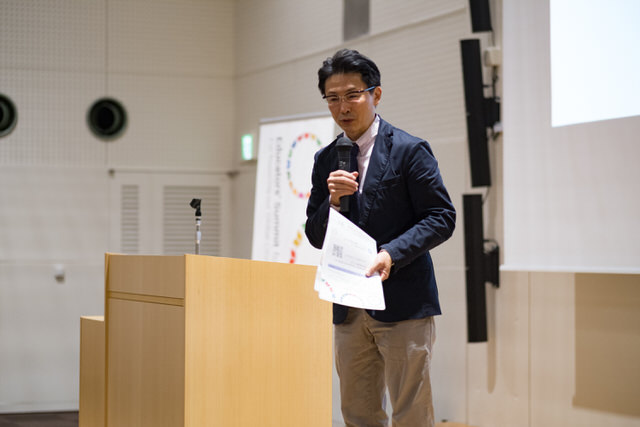 Opening consists of speeches and background description
Announcing the opening of the event, Ms. Madoka Tatsuno talked about the background of the event (Representatives of GCED conferences teamed up for this event and this would be followed by training programs). She also introduced the concept and goals of SDGs 4.7, and its goals to collaborate various educational programs, which are ESD, GCED, International understanding education, Development Education, Human rights education, Creativity Education and so on.
Welcome remarks from Ms. Lay Cheng Tan, UNESCO Bangkok Office Explanation on Education 2030, SDGs 4.7 and its project on GCED
On live online video, Ms. Lay Cheng Tan send a message; "The key point for GCED and ESD is the concept of transformative education. The learners understand the dynamics of the world around them, and the roles and responsibilities to themselves in the society. In addition, they understand they need to take initiatives to tackle the issues in the society for the 21st century ".
Welcome speech from Professor Yoshiyuki Nagata, from University of Sacred Heart
Professor Yoshiyuki Nagata, co-organizer of this event, explained how the institute where he works was launched and its concept and the connection with SDGs 4.7. He presented "Seishin (secret heard)- global plaza represents co-existence of human being. The concept of the workshop space 'BE*hive' is about education for deepening human existence, so we named it as not 'Bee*hive' but 'BE*hive'. The event proceed to 7-minute Lightening Talks by 6 distinctive speakers in order to give the participants the valuable overview related to SDGs 4.7 and followed by 3 workshop sessions.
Lightening Talks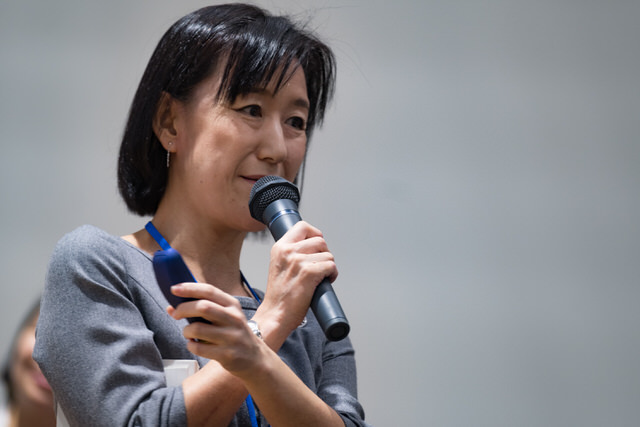 Advancing Education for Sustainable Development (ESD) in Japan
Ms. Noriko Suzuki
Ministry of Education, Culture, Sports, Science and Technology (MEXT)
Ms. Suzuki introduced how ESD has been part of the mainstream concept of curriculum guideline. The initiative started in 2002. She explained that ESD, which can be defined as an education for global citizens to create sustainable society, has been included as a basic concept through the whole curriculum. She also explained ESD as a driving force to contribute to the achievement of 17 SDGs goals through fostering citizens who are actively participate in the society.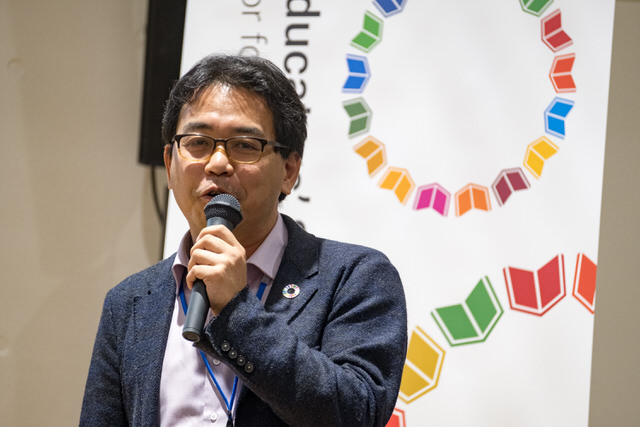 SDGs 4.7 in Development Education and International Understanding Education
Mr. Toru Naito
JICA Global Plaza

Mr. Naito explained JICA's engagement on development education in schools. They recently published materials on how to conduct development education in classroom by videos.  In addition, he stressed that the society is transforming from the concept of competition to coexistence, and dialogue will change from argument to co-creation. Decision making will be more important than finding answers in problem solving, and globalism will be accelerated with diverse cultures even urban areas.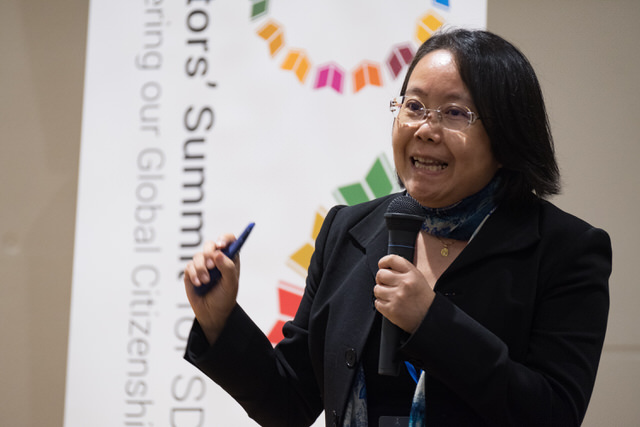 Global Citizenship Education in the era of internet society
Ms. Keiko Okawa
Graduate School of Media Design, Keio University
Ms. Okawa talked about design and society. The most significant part in her talk was about digital citizenship. She mentioned that the current world has two dimensions of global society; the real society and internet society.
Internet society is all connected with the world and who "own, protect, create, manage, belong to" the internet society is a keyword to students to understand their belonging in the planet.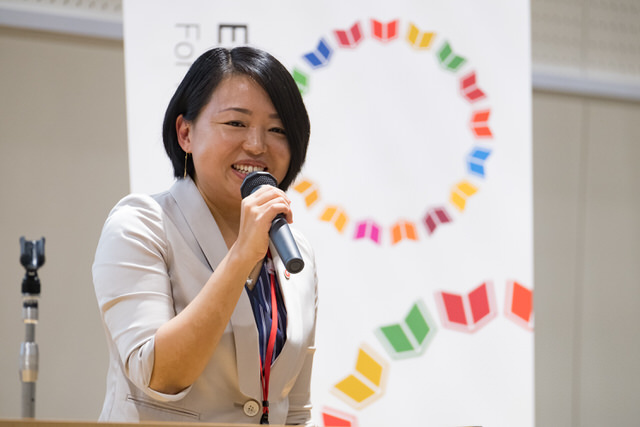 Global Citizenship Development Process and its implementation
Ms. Madoka Tatsuno
Global Incubation and Fostering Talents (GiFT)

Ms. Tatsuno explained GiFT's global citizenship education concepts, pedagogies and programs. GiFT's process of fostering global citizenship (1. Understanding/ Accepting self, 2. Understanding and Accepting others, 3. Co-creating with others and 4. Contributing to the society) was introduced to develop participants global citizenship and its contribution on competencies in domains. GiFT's global citizenship educational program has been implemented into various sectors including schools, government agencies, and business enterprises etc.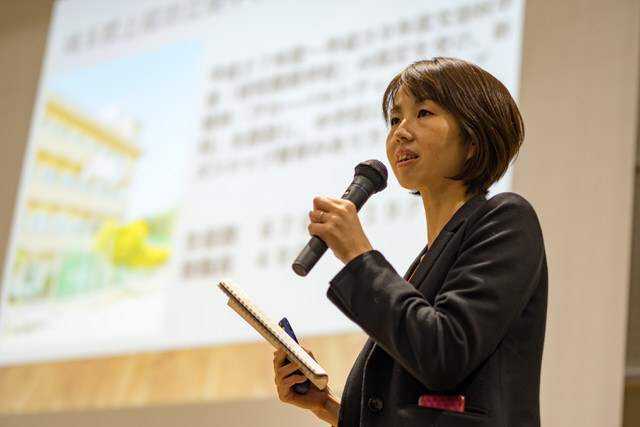 Possibility of Global Citizenship Education in Junior High School
Ms. Sayaka Matsukura
Department of Global Citizenship, Ageo Higashi Junior High School

Ms. Matsukura works at Ageo Higashi Junior High School, which was selected as a research and development school by MEXT. She introduced her projects on Global Citizenship subject which attracted great attention from school teachers particularly about "how to" in classroom. Each year's specific learning target and process, and how the evaluation scheme was built among teachers. They started to implement SDGs into classrooms education by setting several themes from 2017, and introduced 3 learning steps she focuses on then she implements the educational programs.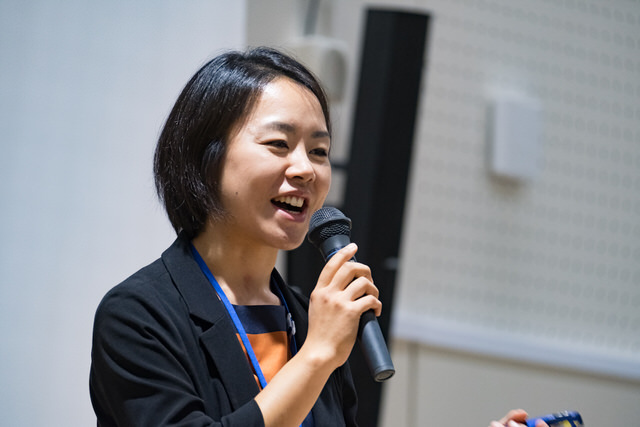 Fostering Identity through Creative Learning
Ms. Yumiko Murai
Massachusetts Institute of Technology (MTI) Media Lab
Ms. Murai presented creative learning and its relation with global citizenship in the era of internet-connected society. She said "the concept and pedagogy are interesting. Projects, Passion, Peers and Play (4 Ps) and procedure (imagine, create, play, share, reflect and imagine…). The methodology is fully fit into the connection with local, national and global topics. She explained that people can learn how to involve with others when they create something new together, and such experience can be connected towards global citizenship.
Selected Session
3 Theory Workshops
Global Citizenship through Creative Learning


Ms. Yumiko Murai (Massachusetts Institute of Technology (MTI) Media Lab)
Dr. Marcos Sadao Maekawa (Senior Assistant Professor, Keio University Graduate School of Media Design)
Creative Learning parts conducted actual workshop with the theme of global citizen. Same as design thinking, participants actually created and shared ideas about global citizenship and shared all productions among the participants. In the reflection session, Ms. Murai introduced "Creative Learning Spiral" to reflect characteristics of way of thinking individually and in groups as well. Participants deepened their learning and found interesting diversity within group.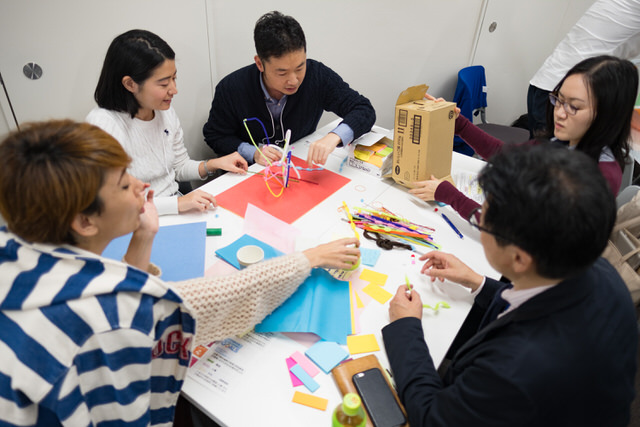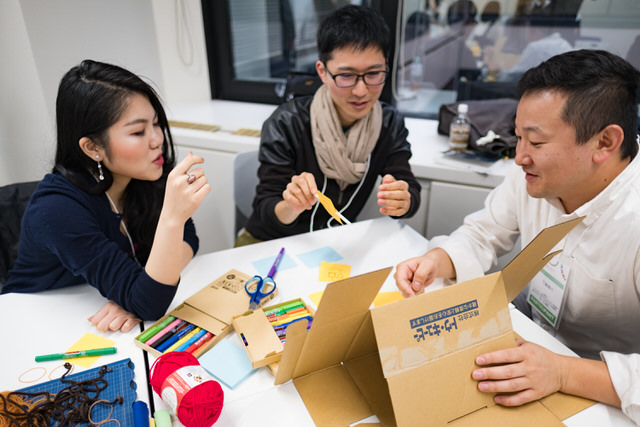 ---
UNESCO's Global Citizenship learning objectives and its implementation in Japan
Ms. Lay Cheng Tan (UNESCO Asia and the Pacific Regional Bureau for Education, Thailand)
Mr. Tomonori Ichinose (Research Center for International Understanding in Education, Miyagi University of Education)
Mr. Makoto Kobayashi (College of Education, Tamagawa University)
Ms. Sayaka Matsukura (Ageo Higashi Junior High School Chief of Department of Global Citizenship)
Mr. Daisuke Kimura (Diversity Facilitator, Global Incubation and Fostering Talents (GiFT))
GCED template and its implication to the education system in Japan were introduced in the workshop. The values of the session were mainly two parts; template and learning objective in Japanese translation and presentation from our GCED conference teams. The GCED template itself encourages to start global citizenship from young ages, but in reality in Japanese education the coherent GCED was not implemented well, particularly in high school level.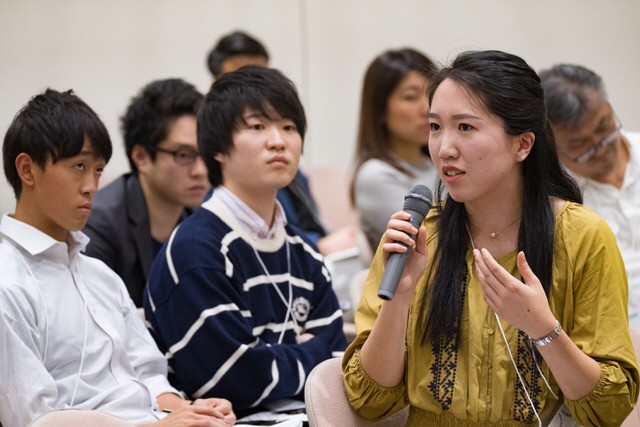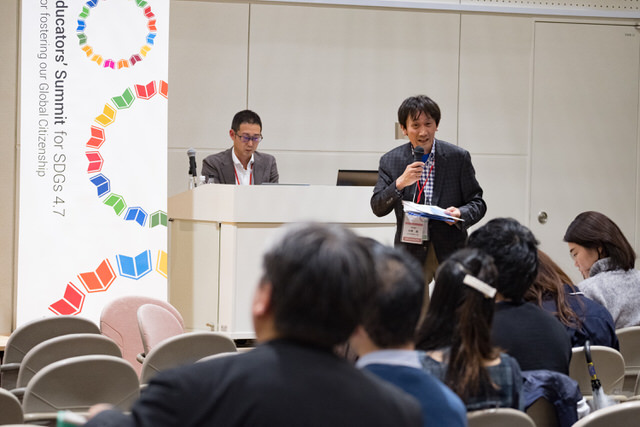 ---
2030 SDGs Card Game workshop (fostering global citizenship and ESD)
Mr. Taiju Suzuki (Senior Diversity Facilitator, Global Incubation and Fostering Talents (GiFT))


Mr. Suzuki facilitated SDGs Card game. The game encourages participants to critically think about social issues and elicit learning that how each person's action affects on global/local society.

In 90 minute workshop, participants worked on how to make the global society a better place, and such challenge have them realize hints to achieve SDGs. The reflection parts also contributed to participants understanding and instigate actions towards sustainable global society.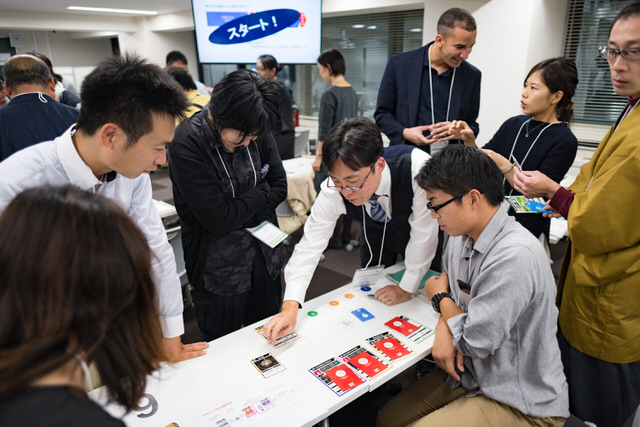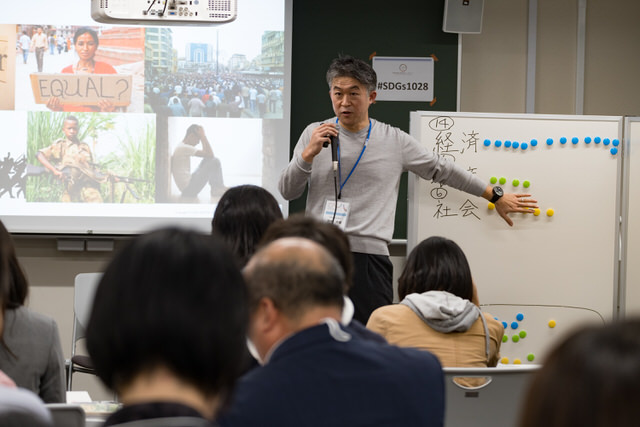 Reflection
Think of future steps
After the selected session, participants gathered again and facilitator Mr. Taiju Suzuki conducted reflection session. It enabled participants to bring specific things back to their life and educational programmes. Collaboration among stakeholders and openness of schools to outside actors are keyword to bring SDGs 4.7 concept into success.
<Future Vision by participants>
I'd like to construct learning environment that my students can realize their identity and friendship.
I will foster Education for Sustainable Development in all Japanese school.
I contribute to achieve SDGs in 2030 by fostering CSR activities in business sector and change person's behavior.
I create a learning environment that students can have global perspectives and continue creative learning.
I'd like to rethink "global" and "national" perspective.
I'd like to make opportunities for people to think of SDGs as close topic to themselves.
At the end of this event, Professor Ichinose greeted that SDGs represents global issues and the direction to solve them. Global Citizenship contributes to foster human resources to overcome today's situation. The event was successful in terms of bringing many stakeholders into SDGs 4.7, awareness raising, importance of SDGs 4.7 in education and technical methods to bring the pedagogies into classroom in cooperation with various stakeholders. This event had many corporate people, Technology people, in addition to teachers and researchers in ESD and GCED. It was valuable moment to connect various sectors into education. Many of them expects to have another session when UNESCO publishes the new templates.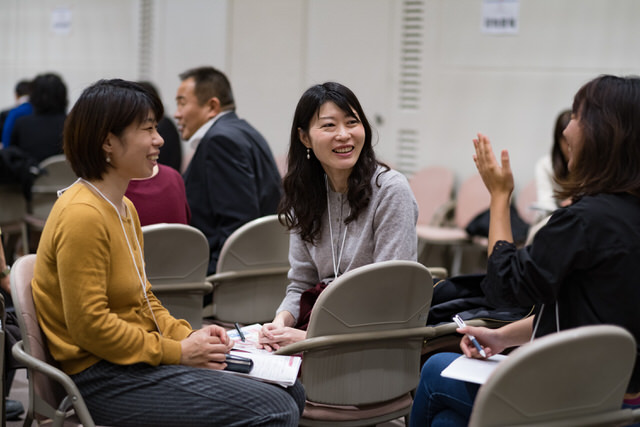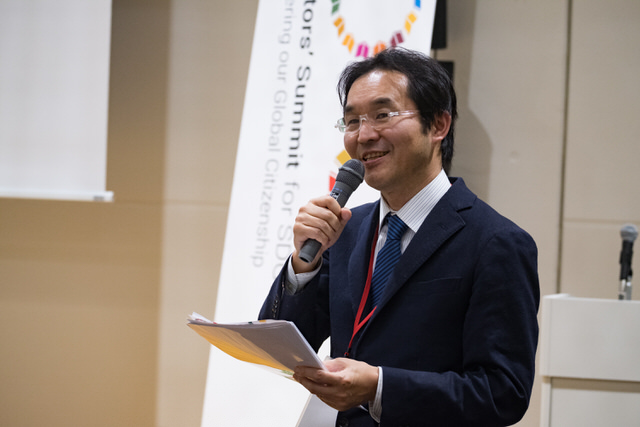 Voice
Participants' Comments
By gathering and interacting with multi-stakeholders under the keyword "Global Citizenship", I felt great potential and positive energy from there. Although approaches and methodology are diverse, it is necessary for us to connect ourselves to the next step of co-creation through dialogue like today. (Student)

I noticed that education is the most important essence for human beings.  It is important to tell my own opinion without self-deprecating.(Member of an organization)

I realized we need to be more familiar with global topics. I strongly felt that the future of Japan depends on "Education". (Office worker)

Since SDGs 4.7 won't be defined by a single word, it is difficult to fully understand and commit towards it. Nonetheless it is a very important theme. (Office worker)

I could understand well that how "Global Citizenship" is placed in SDGs 4.7 and that how people are taking actions in different sectors. (Teacher)
Special Lecture
~Networking Event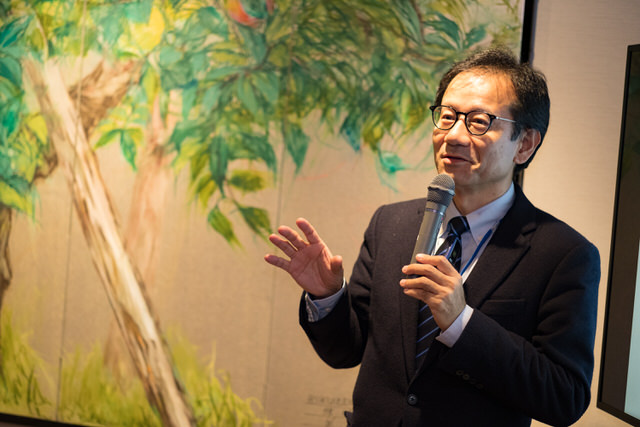 Special Lecture
Education 2030 and Japan's education outlook
Professor. Kan Suzuki,
Chief Policy Officer, Advisor to Minister of MEXT
Professor of Tokyo University, Keio University
Professor Suzuki introduced how the MEXT is trying to transform education system towards 2030. Unlearning from existing value and existing curriculum is a keyword in Japan since Japan was the most successful country of industrialization era; refine, prototype and sophisticate the products under the manual and following the rule.  He stressed importance of unlearning of manualization and knowledge-based era to live in the globalized and AI era of uncertainty with no "right answers". It was impressive that he mentioned that everyone can be active learners and adults can show their positive attitude to children to promote active learning.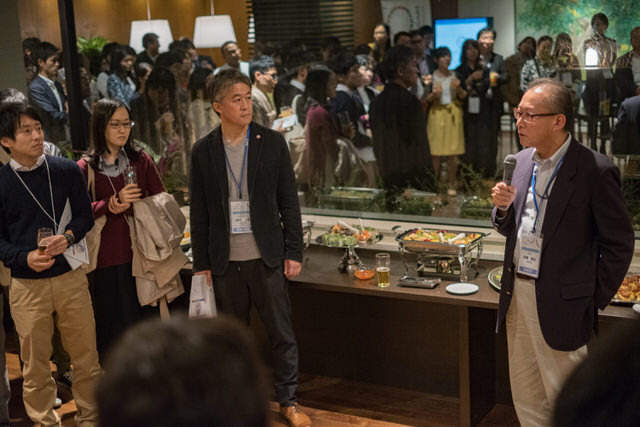 Greetings
Mr. Shigeharu Kato
Former Director-General for International Affairs, Ministry of Education, Culture, Sports, Science and Technology (MEXT)
Mr. Kato, who was in charge of promoting ESD for a long time, made a short speech about ESD stream so far and mentioned globalized future. Wishing hopeful future for children and youths, he addressed message to cheer up education for 21st century.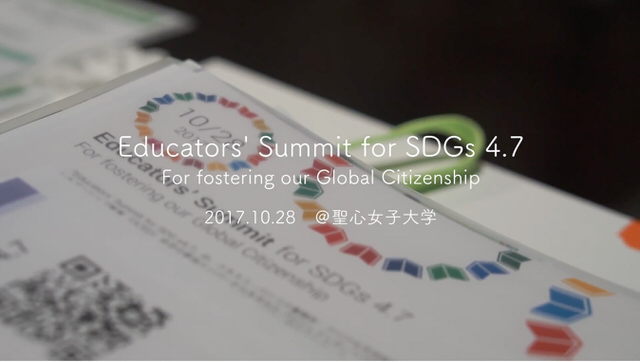 Professor Matsushita and a student created Real Time Video, which is one of the ways to reflect workshop visually through watching the movie. They recorded the event from the morning and edited throughout the day, so that the participants could watch the movie at the end of the day to recall the learnings.
About
Program details
Sustainable Development Goals (SDGs) has been set as the important goals in order to achieve the sustainable society by 2030. While Japan faces fundamental educational reforms with High Schools/Universities Articulation Reforms, this project contributes to foster teachers and educators who can maximize learning towards sustainable society and global citizenship.
The event aims to draw a picture together with educators from various social sectors and have deeper understanding of important concepts and tools in education for SDGs, Goal 4.7 in particular, which are closely related to ESD (Education for Sustainable Development), GCED (Global Citizenship education), Development Education, and etc.
Date
28th Oct., 2017 13:00〜18:00 (Summit)
18:30〜20:30 (Special lecture & Networking time
Venue
Seishin Global Plaza, Seishin Girls University (the University of the Sacred Heart)
Exhibition was placed with related educational materials
(3minute walk from Hiroo Station, Tokyo Metro Hibiya Line)
Organized by
Executive Committee for Educators' Summit for SDGs 4.7
[Admin Office: GiFT ]
Co-organaized by
University of the Sacred Heart
Supported by
UNESCO Asia and the Pacific Regional Bureau for Education, Thailand
Japanese National Commission for UNESCO, Ministry of Foreign Affairs of Japan, Japan International Cooperation Agency (JICA), ESD Center in Japan
Cooperated by

Graduate School of Media Design, Keio University
Educators' Summit for SDGs 4.7 Executive Committee Members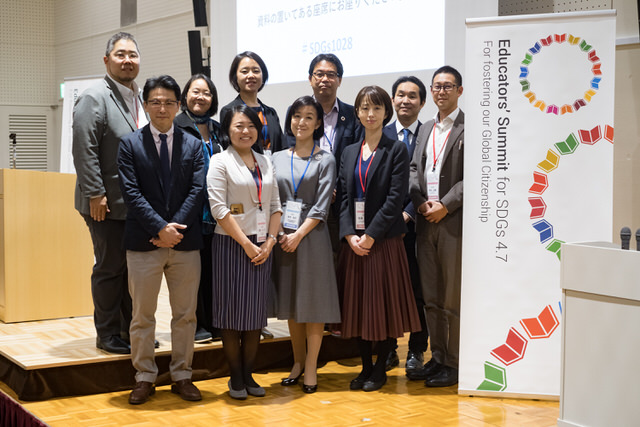 Prof. Tomonori Ichinose

 Professor, Research Center for International Understanding in Education
    Miyagi University of Education

Prof. Makoto Kobayashi

 Professor, College of Education, Tamagawa University

Dr. Marcos Sadao Maekawa

 Senior Assistant Professor, Graduate School of Media Design, Keio University

Ms. Madoka Tatsuno

 Executive Director/ Trustee, Global Incubation and Fostering Talents Visiting Professor
    Faculty of Food and Nutritional Sciences, Toyo University

Mr. Daisuke Kimura

 Diversity Facilitator, Global Incubation and Fostering Talents Part-time lecturer,
    Meiji Gakuin University

Ms. Sayaka Matsukura

 Chief of Department of Global Citizenship, Ageo Higashi Junior High School